What's the impact of HTTPS on SEO?
Posted on June 14, 2018
For anyone who regularly browses the internet you will no doubt have begun to notice website addresses that begin with http or https. Essentially any website address that begins https has a valid SSL certificate, which is a key part of latest website security best practice.
An SSL or Secure Sockets Layer creates an encrypted connection between a website and the hosting platform. This ensures that all information that passes between them is secure. A classic example of data that should now be encrypted are contact form submissions or payment details.
In October 2017 we originally discussed how Google was beginning to mark any website without an SSL certificate as not secure. This has moved on a stage with the release of Chrome 68 and we've discussed this more below.
The implementation of GDPR has also further highlighted the need for an SSL but recently we've also been asked about their impact on SEO – so we've attempted to address this below:
SSL, HTTPS and their impact on SEO
First off, it's worth stating that Google hasn't announced that having https is an important ranking factor and there is little evidence to suggest it alone results in ranking increases. However, you need to look further and consider how providing a secure website impacts on your visitors, website engagement and conversion rates – all very important ranking signals!
Search engine rankings
Website security has been part of Google's search algorithms since 2014 and it's always been expected that it's importance would increase. In 2015 there was a clear statement from Google that said at the very least the use of https would be a deciding ranking factor for very similar websites. Basically, this suggests that if any of your local competitors have SSL and you don't, it's quite likely this will be the reason why their website may rank ahead of yours.
Visitors to your website
Naturally, higher search engine rankings will result in an increase in qualified visitors but it's important to consider the impact https will have on their numbers. As awareness of SSL certificates continues to rise, regular internet users will see it as a sign of trust. This will make it far more likely they'll visit a secure website over a not-secure one.
Overall this will result in higher click through rates from search results which has been shown to be an influential ranking factor.
Conversion rates
The whole point of investing in a website is surely to attract new business by showcasing your services and / or products online. According to a study by GlobalSign, 84% of users would abandon a purchase if they were notified their data was not secure.
If you don't consider the buying process on your website as something worth thinking about, then imagine a customer voicing concerns about your order process in person. You'd listen to their frustrations and work to overcome any issues in order to retain their business, so why should you website be any different?
July 2018 – Google will mark all websites as not secure
Coming next month is the release of Chrome 68, a major update to Google's internet browser. A key part will result in any http website being clearly marked as no secure. Currently, not secure websites are reported using a small exclamation mark, which informs the user the connection is not secure when clicked: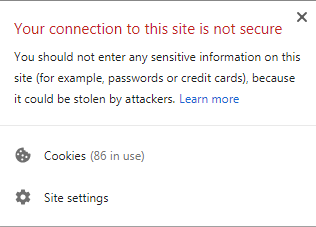 However, the release of Chrome 68 will see a clear 'Not secure' warning being displayed:

Similar warnings are also being rolled out across the latest versions of both Firefox and Edge.
Be proactive with your website security
So while the introduction of an SSL certificate won't automatically result in higher search engine rankings, not having one could quickly begin to have a negative affect due to poor website performance:
Similar sized websites with https ranking above you
Reduce click through rates from search engine results
Users seeing a 'not secure' notification when they visit your website
A large amount of potential orders or enquiries being abandoned
Remember, when thinking about website security that you're an internet user yourself. What opinion would you form of a website that is not secure? Would you be happy to input your contact details or make a purchase over an insecure connection? We highly doubt it.