Google's August Core Algorithm Update
Posted on August 16, 2018
On the 1st August Google announced that they had begun the roll out of a large update to their core algorithm. This has resulted in widespread reports of ranking fluctuations in many industries but it does particularly seem to have targeted health and medical websites.
This week we released a broad core algorithm update, as we do several times per year. Our guidance about such updates remains the same as in March, as we covered here: https://t.co/uPlEdSLHoX

— Google SearchLiaison (@searchliaison) August 1, 2018
According to Search Engine Land Google has communicated that if sites have experienced ranking drops there is no quick fix to overcome it. Site owners should focus on providing a great user experience, creating better content and building a useful website – all key ingredients of successful search engine optimisation and wider digital marketing.
Ranking movements by industry
Moz, who are constantly tracking ranking movements across a wide variety of industries, report this core algorithm update has particularly affected health and medical sites. That said, there has been significant movements across the board. The chart below is taken from their MozCast tool which ranks changes using a temperature metric: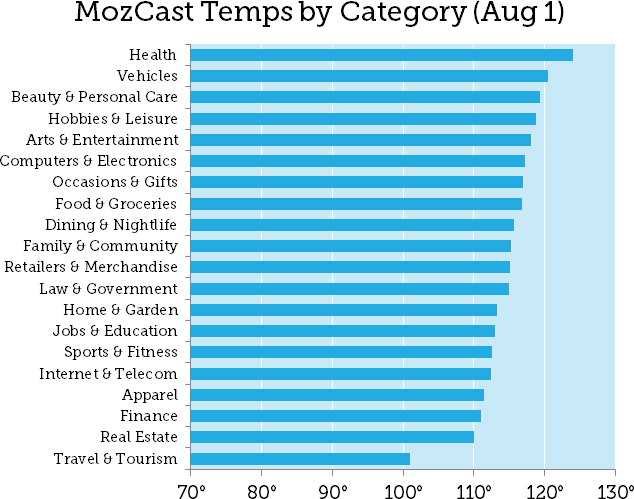 It's unusual for any industry to show a temperature above 100 degrees, never mind a list as long as this. It's clear this latest update was not targeted at a particular type of website which has been the case in the past, the impact has been widespread.
As normal with these things the official line from Google is very broad, the only thing they've confirmed is that there was an update but this occurs several times per year. The fact so many webmasters and search tools are reporting large ranking changes seems to suggest this latest update was much larger than usual.
Have you noticed any ranking drops or a sharp drop in visitor numbers? If you've got an questions or concerns please don't hesitate to let us know.