Digital Marketing Round Up – 29th June 2017
Posted on June 29, 2017
Smart Insights Search Engine Statistics 2017
We've recently been studying a great piece of research by Smart Insights which has looked into trends and performance of all aspects of search engine marketing. Some of which are no surprise, but other statistics reveal a fascinating picture – our major takeaways from it:
There are 6,586,013,574 worldwide searches every day
43% of searches are performed through Google (which has further increased since 2016)
94% of users skip past Ad Words PPC ads
36% click on the top organic search result
63% of clicks are on positions 1 to 3
Smart Insights Search Engine Market Share 2017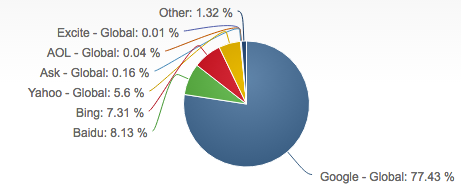 If we didn't know already the study further indicates how important it is that your website ranks in the top positions for your targeted search terms. Visit Smart Insights to read through the fully study.
Major Google Search Algorithm Update

Many industry experts have recently been reporting major changes in search traffic and rankings to whole range of websites. Although Google have not confirmed it – their official line is "We make updates all the time" – it does appear there has been a large algorithm update which has been rolling out over the last week.
We'll keep a close eye on it and track any major fluctuations. You can read the full story here or here.
SEO: The Movie
Directed by John Lincoln, CEO of Ignite Visibility, SEO: The Movie is the story of the early days of SEO and how Google turned the industry on its head, told by industry pioneers. The 40 minute movie is a fascinating watch and one that anyone can pick up and learn how the search industry has changed.
It obviously can't detail everything but it does highlight all the important milestones on how we've got to where the search industry is today.
View SEO: The Movie or watch below:
Google Receive Record EU Fine
The European Union has this week hit Google with a record £2.14bn fine. This is related to a long standing investigation into whether Google abused its position by illegally promoting its own price comparison service in searches over a number of years. Off the back of this ruling, the EU is looking further into how else Google may have abused its position through map creation and information on local service – it doesn't appear to be over yet!
The Guardian have reported the news in full featuring the investigations history and commission findings.