64% of B2B website visitors are from organic listings
Posted on September 26, 2019
According to a new study by BrightEdge over 64% of visitors to any B2B website are sourced from organic search results, the largest share of any other sector within the study. The results were gathered in May 2019 generated from 'billions of sessions to thousands of domains".
The study also found that all visitor sources to any website are still dominated by organic search results and paid search ads, with 68% of all trackable website visitors coming form these 2 sources (over 75% in the case of B2B). Surprisingly, social media remains a low source of website visitors and hasn't grown since the study was first conducted in 2014.
Even with Google's attempts to display more paid ads within search listings this report actually finds that organic visitor traffic has grown over the last 5 years, albeit only narrowly.
The study breaks out the statistics across key verticals: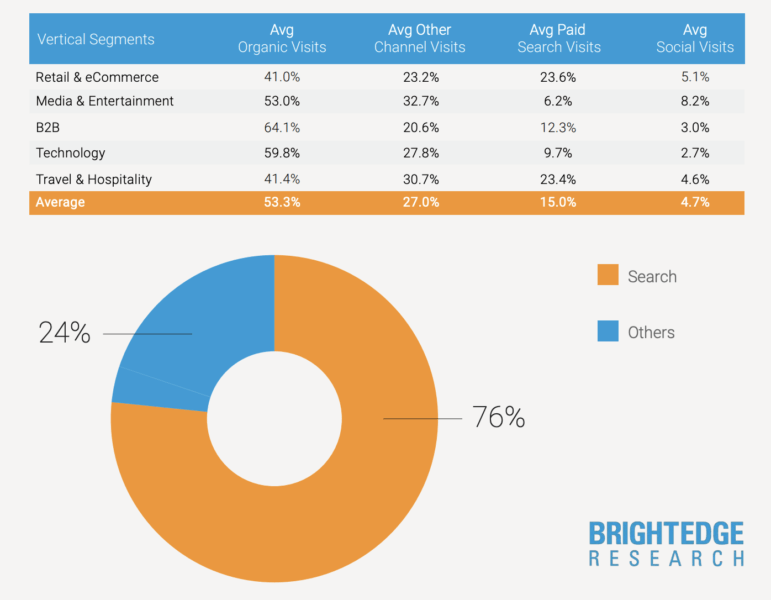 The full study is available for download as a PDF.
Why is this important to us?
We see on a daily basis that website visitor levels are low from social media and we're not surprised by the reports findings – although being active on social media brings benefits in a host of other ways.
However, the study undoubtedly reaffirms the message that any website needs to have strong visibility on search engines, which can be achieved organically through SEO or from paid ads.
Furthermore the many structural changes Google has made to search engine result pages, which many have perceived is to highlight paid ads, has not had an impact on the number of visitors from organic results.