The term 'Inbound Marketing' is a relatively new one and is used to describe an approach to online marketing that seeks to attract website visitors by developing great content, which is made available across a variety of online platforms including websites, blogs and social media platforms.
Over the past 5 years it has become increasingly clear to marketeers that traditional 'outbound marketing' approaches are gradually declining in their effectiveness and new inbound techniques are becoming much more effective.
What is Inbound Marketing?
Marketing is all about spreading the word about products or services to encourage people to purchase them. Traditionally this has been done using 'outbound' marketing techniques like telemarketing or email campaigns. Whilst these techniques may still have some relevance, increasingly they are becoming less effective.
Inbound marketing is a strategy based on attracting the attention of potential customers using various online channels in an organic way that doesn't directly cost money. Rather than being disrupted by an 'outbound' telemarketing call, people prefer to use the web to learn about and buy products and services.
It's all about selecting and using the best mix of online channels that suit your business goals best and then using compelling content to attract the attention of your audience.
To help explain the differences, here is a list of typical 'Inbound' and 'Outbound' marketing techniques:
Inbound Marketing
Blogs
Podcasts
Video
eBooks
eNewsletters
Whitepapers
SEO
Social Media
Outbound Marketing
Cold-calling
Telemarketing
Direct paper mail
Radio
TV or radio advertising
Sales flyers
Spam
Email marketing
Traditional advertising
Inbound Marketing examples
Why adopt inbound marketing for your business?
As a result of the huge growth in the internet, marketing has gradually been evolving and consumers no longer rely on traditional forms of advertising to learn about new products and services. This is because search engines and interaction on social media platforms has provided alternative ways to find, buy and research the products and services they are looking for.
Unlike the old outbound methods, inbound marketing provides a two-way dialogue utilising the power of interactive websites, blogs and social media.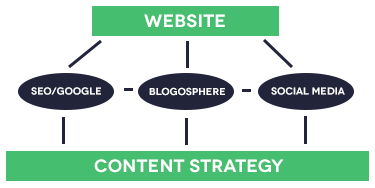 Furthermore, inbound marketing is gaining ground because it costs less than traditional outbound techniques and has been proven to be more effective in today's highly connected world.
Inbound marketing is based on delivering engaging, original content that attracts attention, is informative and adds value. Businesses providing this content have an opportunity to make a positive connection with their potential clients making them more likely to engage and go on to place enquiries or orders.
How can Mintcake help?
We have many years experience in helping businesses employ the marketing techniques included in the inbound marketing methodology. Central to this is the development of a content strategy that encompasses your website, search engine optimisation, blogs and social media platforms.
The first stage is for us to review your current business strategy and marketing plans, from there we will devise a content strategy for your business and provide the services need to implement your inbound marketing strategy.
Interested in finding out more?
Contact us now to arrange an initial meeting, or give us a call on 01539 900 020 for an initial chat.